2007 Sealco International Ltd opened its gasket division, we stock a complete and versatile range of materials, including compressed non-asbestos fibre (CNAF), together with commercial rubber, neoprene, nitrile, EPDM, butyl, silicone, viton® and polyurethane sheet.
In addition, we maintain large stocks of various grades and thicknesses, of plain and rubber-bonded cork, gasket paper, felt, plain and reinforced graphite, vulcanized fibre, plastic and sponge materials and virgin, filled and/or expanded PTFE
Tooling is available to produce all standard pipe flange gaskets (BST, ASA, DIN etc.) from any material.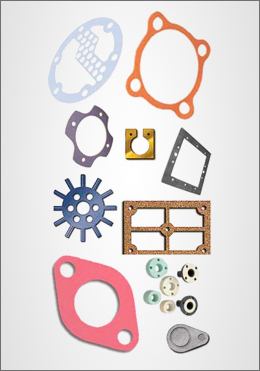 SIMPLY ADVICE
Grades required
Thickness
Flange specification (e.g. Bs 10, asa 300, bs 4504)
The nominal bore
Whether inside bolt circle (ring joint) or full face
SPIRAL WOUND GASKETS
Wound in V-section metal strip and a softer filler material. Support rings, inside and/or outside the spiral, improve the gasket's handling, fitting and versatility. In operation, flange faces are presented with a spiral of alternate metal/filler layers. This sealing arrangement is highly successful on flanges where temperature, pressure, vibration or flow rates are beyond the capability of conventional jointing materials.
Gaskets are made in a wide variety of sizes and shapes
Combinations of metal strip and filler are selected to suit the specific fluid media and operating conditions
Quick to install and remove
Operating temperatures from cryogenic up to 1000¡C
System pressures from high vacuum to over 350bar
Support rings – inside and/or outside the spiral – make gaskets suitable for high pipeline pressures on flat or raised flange faces
RTJ – RING TYPE JOINT GASKETS
Ring Type Joint (RTJ) Gaskets are precision machined, metallic sealing rings suitable for high pressure and high temperature applications. RTJ gaskets are designed to seal by "initial line contact" or wedging action between the mating flange and the gasket.
By applying pressure on the seal interface through bolt force, the softer metal of the gasket flows into the micro-fine structure of the harder flange material, creating a very tight and efficient seal. RTJ gaskets are manufactured in accordance with API-6A and ASME B16.20 specifications and come in four basic profiles:
FOUR BASIC PROFILES
R-Oval – Ring Gasket
R-Octagonal – Ring Gasket
RX – Ring Gasket
BX – Ring Gasket
These basic shapes are used in a variety of applications with pressures up to 20,000 PSI. The dimensions are standardized and require specially grooved flanges by where a corresponding "R" or "BX" number is assigned for pipe size and pressure class for gasket identification.