O-Rings are one of the most common seals used in seal design because they are relatively inexpensive and reliable. O Rings seals are available in various metric and standard sizes.
UK standards sizes are known as BS Sizes (BS1806 for Imperial) and (BS4518 for Metric).
In general o-rings are specified by internal diameter and the cross section.
O Rings made to British Standard Imperial (BS) and British Metric (RM) sizes as well as Swedish, German, French and Japanese (JIS) metric sizes in Nitrile, Viton, Silicone, Flurosilicone, Ethylene Propylene (E.P.D.M.), Neoprene, NWC (National Water Council approved),FEP (Viton and Silicone encapsulated), High Nitrile and Food Grade materials in a variety of shore hardness's, as well as in P.T.F.E. to suit both static and dynamic applications.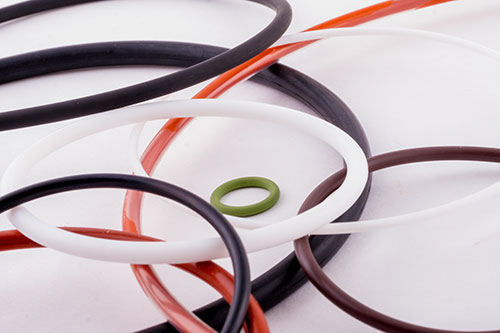 WE STOCK THE FULL BS1806 IMPERIAL SIZE RANGE IN THE FOLLOWING COMPOUNDS
Viton ¨ 75 (Genuine Dupont)
Viton ¨ 90 (Genuine Dupont)
Silicone / Red FDA Approved
Nitrile (NBR) 70
FEP ENCAPSULATED
An encapsulated O Ring comprises an elastomer core which has been seamlessly encapsulated in a jacket of Teflon¨ fluroropolymer. The core is either Viton¨ (FKM) or Silicone (VMQ) and the jacket FEP or PFA. Encapsulated 'O' rings are recommended when a standard 'O' ring has inadequate chemical resistance for an application and a solid PTFE 'O' ring does not have the elasticity for reliable, long-term fluid sealing. They are often used in the chemical, petrochemical, food and pharmaceutical industries, where chemical resistance and/or hygiene are required.
FEP-ENCAPSULATED 'O' RINGS GIVE:
Excellent resistance to a wide range of chemicals
Low friction
Low 'stick-slip' effect.
TYPICAL TEMPERATURE RANGES OF:
-60¡C to +200¡C with Silicone core
-20¡C to +200¡C with Viton¨ core.